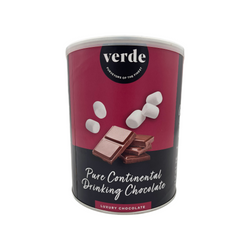 Pure Continental Hot Chocolate 2kg
Pure Continental is a new, gourmet hot chocolate drink developed by Verde Coffee. Stored in an easy to open and resealable tin, simply add a portion to hot milk for a delicious, creamy, chocolatey hot chocolate!
Perfect to use in our hot drinking chocolate machine or straight in a mug.
Don't forget to add mini marshmallows and lots of whipped cream!
You can also experiment by mixing in one of our Monin Syrups.
Pure Continental Hot Chocolate is Gluten free and suitable for Vegans.