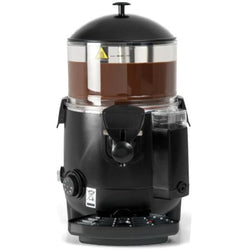 Hot Chocolate Machine 5 Litre
A favourite among catering professionals, this hot chocolate machine is a great addition to your drink serving equipment. Using a bain-marie method of heating you can serve tea, coffee, chai, warm milk, mulled wine and more without risk of burning the product. The mixing paddle makes it easy to use, just add the ingredients.
At just 26cm wide and 47cm deep, using a hot chocolate machine is a great and easy way to quickly serve up to 5 litres of hot chocolate or any hot drink.
Perfect for caterers and chocoholics alike, especially with our Pure Continental hot chocolate.
You could also consider adding flavours of Monin syrup.
Features
To prevent burning the hot chocolate machine uses a bain-marie method of heating and continuously stirs the product to ensure an even temperature and consistency
Adjustable thermostat
Dispensing tap has an easy to use unclogging device
Insulated stainless steel boiler for the hot water bath
The feet are non-slip
Easy to remove product bowl
The large drip tray has an indicator to show it requires emptying
Quick and easy to empty hot water bath
£329.17
Excl. VAT
£395 Incl. VAT