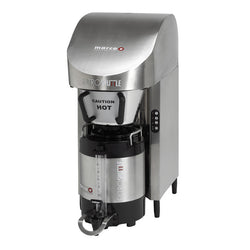 Bulk Brewer Filter Mini Shuttle
The Mini Shuttle bulk filter coffee brewer delivers freshly prepared filter coffee directly into a portable 5.5 Litre urn.
Ideal for anywhere that requires medium to high volume and where coffee needs to be prepared in advance e.g. hotels and restaurants, and for self-service applications such as conference centres, canteens or workplace meeting rooms.
Featuring a 2800 watt heating element, the Mini Shuttle brewer runs from a standard 13 amp plug and is connected to a mains cold water supply via a 3/4" valve.
Dimensions: 510mm deep x 300mm wide x 690mm high.
Capable of producing 189 cups per hour.
The stainless steel construction provides an attractive design for prestigious locations.
Features: Variable batch volumes, basket safety lock during brewing, easy to operate, pulse brew options, pre-infusion options.
This item does not include the Shuttle Dispenser and Stand, this is a separate item.
Designed and built to meet European Coffee Brewing Centre (ECBC) standards.
£1,146
Excl. VAT
£1,375.20 Incl. VAT