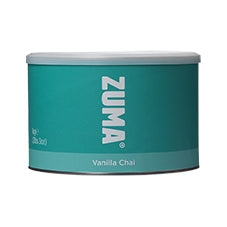 Zuma Vanilla Chai 1kg
Zuma Vanilla Chai powder is a blend of black tea extract with natural ginger and cinnamon. Simply add a scoop of Zuma chai to a large cup half filled with hot water topped up with steamed skimmed milk...wonderful!
Zuma Vanilla Chai is free from artificial colours flavours or preservatives.
Handmade for centuries in households across India, Zuma borrowed from the best of the blends to perfect their own Chai recipe, a subtle combination of natural ingredients including ginger, cinnamon, ground spice, skimmed milk and black tea.
Vegetarian Society approved.
1kg tin