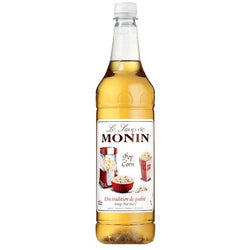 Monin Popcorn Syrup 1 Litre
Half price as use by date 09/20

Perfectly balanced and full bodied, Monin Popcorn syrup will add a roasted popcorn flavour with a hint of nuttiness in any coffee beverages and help craft unexpected classic cocktails such as colada or martinis. Use for smoothies, milkshakes, lattes,
dessert toppings, cocktails and mocktails.
Sold in a 1 litre plastic bottle.