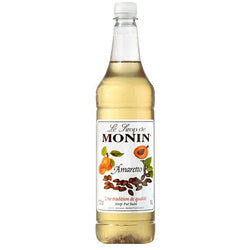 Monin Amaretto Syrup 1 Litre
Monin Amaretto syrup is based on the classic Italian sweet, almond-flavoured liqueur.
Today, Amaretto is usually made using apricot pits and may also contain almonds, other spices and flavourings.
Monin Amaretto delivers the bittersweet taste of this popular liqueur and can be used to create a luxurious Tiramisu, Cappucino and many more tempting Italian themed desserts and after-dinner drinks.
Try making a Tiramisu Cappuccino using espresso, amaretto flavoured milk and a good helping of cocoa powder.
Sold in a 1 litre bottle.