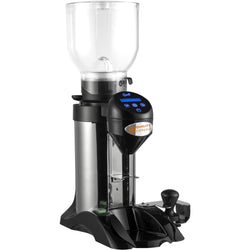 CT2 On-Demand Coffee Grinder
This new coffee grinder has a stylish touch screen, on-demand dosing and a noise level of just 63db.
Features
2kg Hopper made of hardened material, with fast lock system and self-levelling when off the coffee grinder
Micrometric regulation of the coffee grind using a regulatory pawl
New expulsion system for the ground coffee (always leaving the grinding cavity clean when the coffee grinder stops)
Touch screen for easy programming and use (Language selection Setting the grinding program for each dose Selection of 1 dose, 2 doses or continuous grinding Coffee counter: total or partial consumption)
Universal coffee tamper (rotatable)
Bodywork made of stainless steel, with ventilation system (internal air inlet and outlet)
Large tray integrated into the body to catch waste
Hardened steel grinding blades (62/65 HRc) of 60mm diameter
Motor assembly with anti-vibration system
Silencer motor with internal auto-ventilation, 63dB.
Specifications
2 kg Hopper capacity
400 watt motor

60 mm grinding disks
64 cm high, 41cm deep, 22cm wide
Noise level of just 63 db.
£508.33
Excl. VAT
£610 Incl. VAT