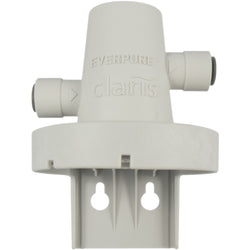 Claris 500 Water Softener Head Unit 3/8"
At the heart of the Claris system is the unique DuoBlend bypass valve technology in the softener head, providing unequalled accuracy for scale and acidity control for increased demands on machine protection and food and beverage quality and enabling precise adjustments of carbonate hardness in the filtered water.
The bypass level can be adjusted to best suit the appliance type, i.e.. hot drinks with steam (coffee/espresso), without steam (vending) as well as for ice making machines, in order to maximise cartridge capacity taking into consideration local water quality. The system is unaffected by pressure changes in the feed water supply and is suitable for various flow rates.
£36.67
Excl. VAT
£44 Incl. VAT