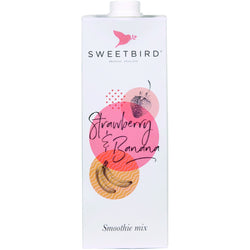 Sweetbird Strawberry and Banana Smoothie 1 Litre 40% off
***SHORT-DATED (06/2023)***
Sweetbird's Strawberry and Banana ice blended smoothie is easy to make, ice cold and fruity.
Simply add our smoothie mix to water, mix with ice and blend; summer in a glass! And for an extra special touch, why not add a Monin syrup of your choice.
How to make the perfect smoothie
100 mls of Smoothie mix (Can be pre-portioned and frozen)
50 mls of water
12 ounce cup full of ice
Add all ingredients to the blender and blend for 30 seconds or until smooth.