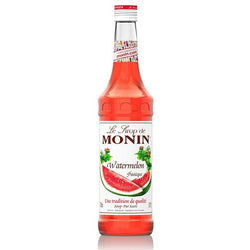 Monin Watermelon Syrup 70cl
Monin Watermelon syrup delivers the exotic, fresh, thirst-quenching taste of this ultimate summer fruit.
The delicate, thirst-quenching taste of Monin Watermelon syrup will create revitalising cocktails, fruit punches, lemonades and smoothies.
Monin Watermelon is perfect for summer drinks (light, crispy, and refreshing). Tyr blending it with strawberry and cranberry juices.
Sold in a 70cl glass bottle.