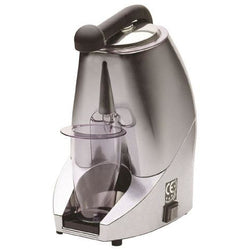 Citrus Fruit Juicer
The Cunill citrus fruit juicer works with minimum effort - oranges, lemons, grapefruit and more. Simply place the fruit in the top section,pull the handle -this will start the powerful motor and in no time at all you will have a glass of fresh juice.
Available in silver, orange or gold.
Features
Can continuously operate for 30 minutes.
Auto start on a press of the lever.
Quick and easy to clean with no edges or ridges and stainless steel internal components.
All components are dishwasher proof at 90C
Includes shatterproof juice jug and watertight tray.
Motor is perfectly sized so as to not raise the internal temperature of the appliance.
Specifications and Dimensions
180mm wide
280mm deep
380mm high
10kg weight
570 watt motor single phase 13 amp
1300 rpm
£254.17
Excl. VAT
£305 Incl. VAT